APPLICATION
HS / FS Ring Elements owing to their convenient shape & sizes, adapt themselves readily to variety of machines and appli-ances for which other type of heaters are not suitable. They are being fitted for heating platens, dies of presses. They are also in use for melting of glue, wax, easily fusible metals like leads, tin, solder, hot plates, valves, flanges, brooders, vulcaniz-ers, popcorn machines, high speed packing machines, diffusion pumps, tank bottoms, kettles, large coffee percolators & wash boilers etc.
CONSTRUCTION
Chrome steel sheath on one side and edges, other flat side is the bare refractory. Coiled electric resistant wire embedded inside. And steel terminal studs with nuts and washers.
FEATURES
Being sheathed on one side only, it has very little residual heat and stands up to 650°C temperature for its surface area. Elimination of the sheath on the contact side puts the rock hard refractory in direct contact with the heated surface, thereby providing slightly faster heat-up. Half Sheath elements can be used where the protection provided by the full sheath is unnecessary.
Fully Sheathed Heaters (both sides metal) provides extra protection from rough handling & usage, especially when there are chances of falling any liquid on it.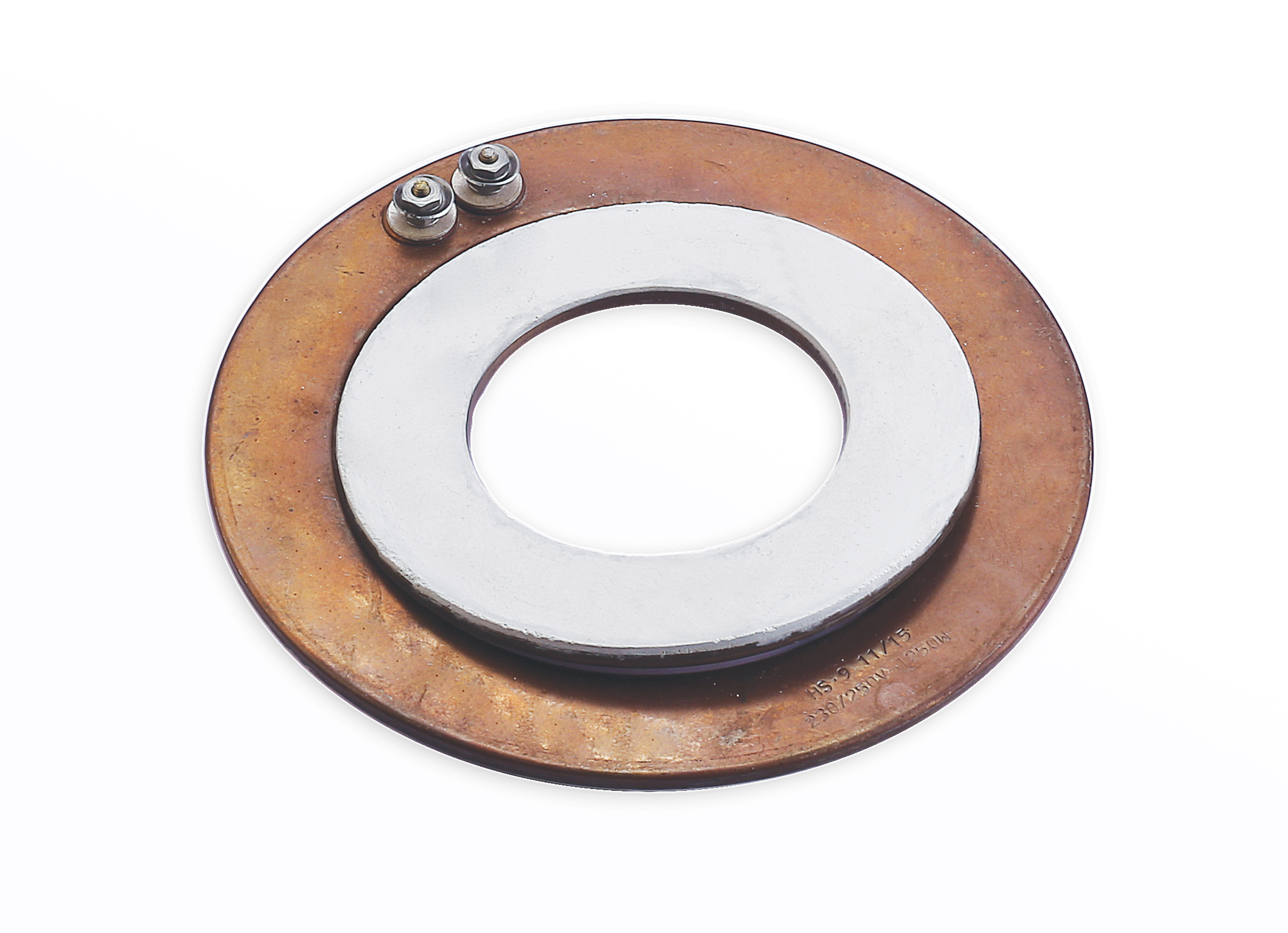 INSTALLATION & PRECAUTIONS
Always use the largest possible numbers of heaters in order to reduce the density in Watt for sq.cm.
Ensure the base of the surface is flat to ensure maximum thermal contact with the heating elements.
The Heaters shall be so installed so that the Ratings are easily visible when required to be replaced in case of faults or for checking after installation.
The installation shall be such that Mains parts are not be exposed, easily accessible and touched by finger.
Install heat insulation to avoid excess heat loss but do not back directly against the element.
Use heat resisting wires for electrical connections. Protect lead exit from contaminations by electrically conductive substances, mechanical shock, excessive flexing, excessive temperature & moisture.
Use crimped lugs of appropriate size and construct it so that no strands are loose. Shall be tightened with appropriate torque so that there is no loose connection.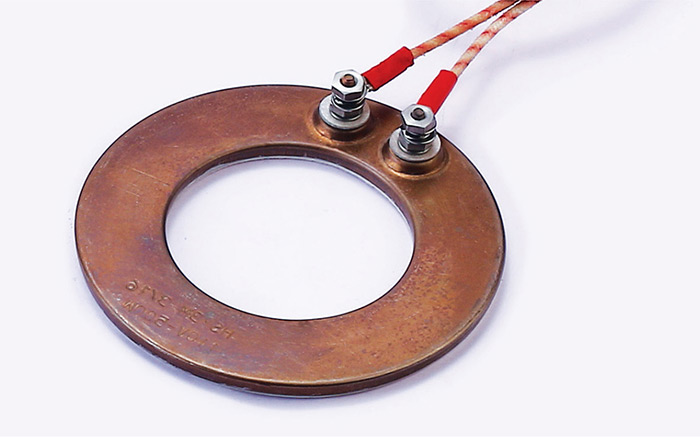 CLAMPINGS
Cast-iron clamps, for ring elements, retain their strength at elevated temperatures to assure maximum sheath-to-surface contact. Resulting uniform efficient heat transfer from internal resistance wire to the heated material minimize hot spots on the element, contributing to long service life.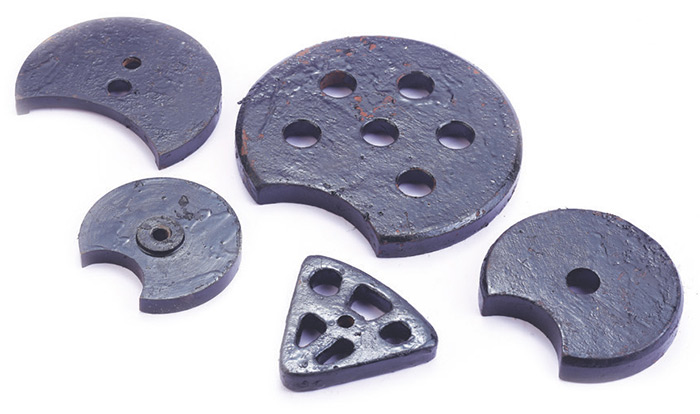 METHODS OF MOUNTING HS / FS RING HEATERS
If the utensil is having thick bottom. The mounting of the element is very simple. A centre bolt & a concave fixing plate alone being necessary, as shown.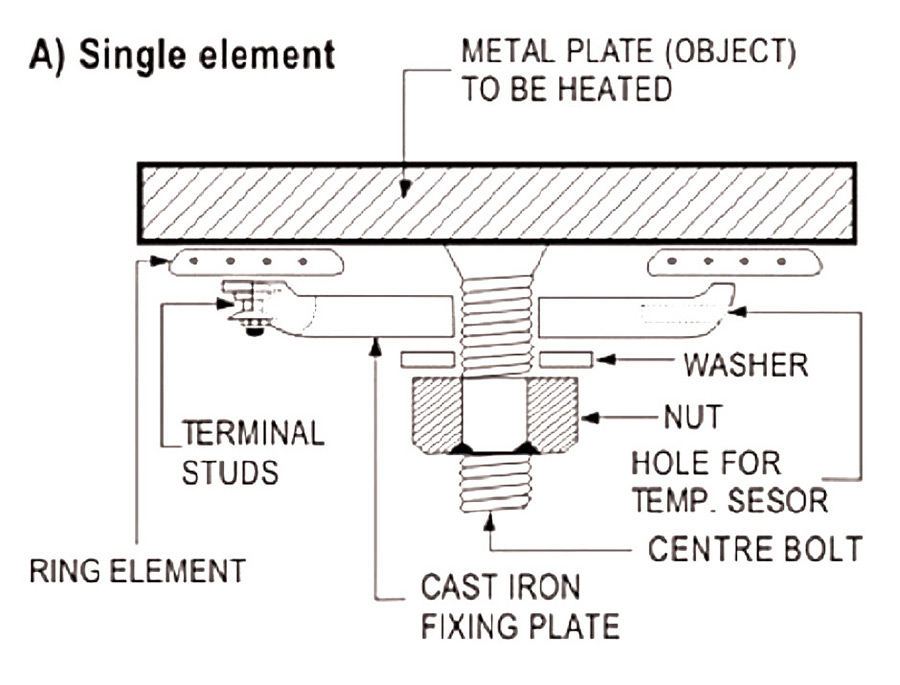 If the utensil button is thin, we suggest to strength it by means of brass / SS backing plates which makes one piece with the fixing bolt mounted as shown.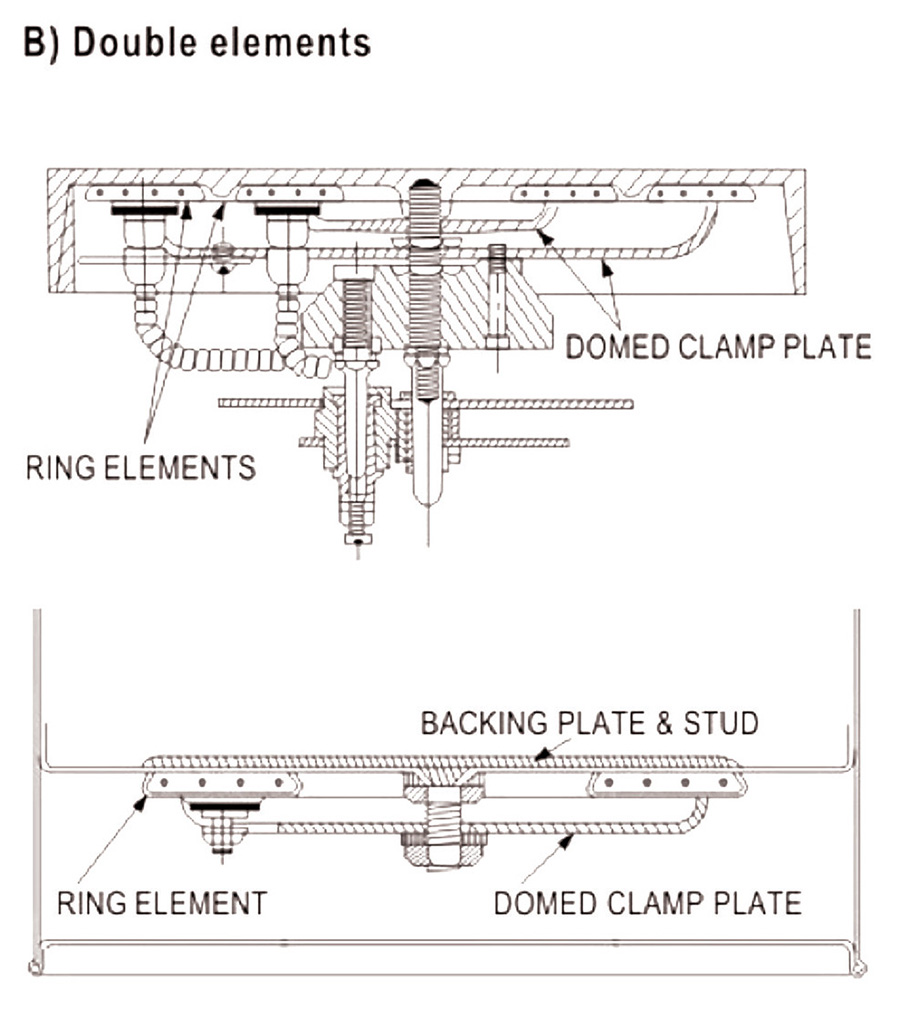 STANDARD SIZES
Types
Max. Watts
@230 Valts
Half Sheated
(Type HS)
Full Sheated
(Type FS)
ID
(mm)
OD
(mm)
ID
(mm)
OD
(mm)
HS-1/FS-1
350
27
87
25
89
HS-2/FS-2
400
50
100
48
102
HS-3/FS-3
500
50
111
48
112
HS-4/FS-4
1000
62
134
60
136
HS-6/FS-6
1250
90
160
88
161
HS-7/FS-7
1300
113
178
111
180
HS-8/FS-8
1600
129
201
126
203
HS-9/FS-9
1750
152
218
151
220
HS-10/FS-10
2000
225
300
223
302
HS-1 have 4BA thread terminal studs and all others types have 2 BA thread studs.
Tolerance in dimension +/- 0.5mm
Heater is not recommended for direct immersion in liquid.
Heater with different Wattage & Voltage can also be made on acceptable quantity and at special price.
Dimensions are subject to change without notice.
Available in E.P.S., E.P.E. packing contains two & ten pieces.
These Heaters can be used one inside the other in the following manners.
FS-10 + FS 9 + FS 4 Total Power 4750 Watts.
FS-9 + FS 4 Total Power 2950 Watts.
FS-8 + FS 3 Total Power 2100 Watts.
FS-7 + FS 2 Total Power 1700 Watts.
TERMINALS SPECIFICATIONS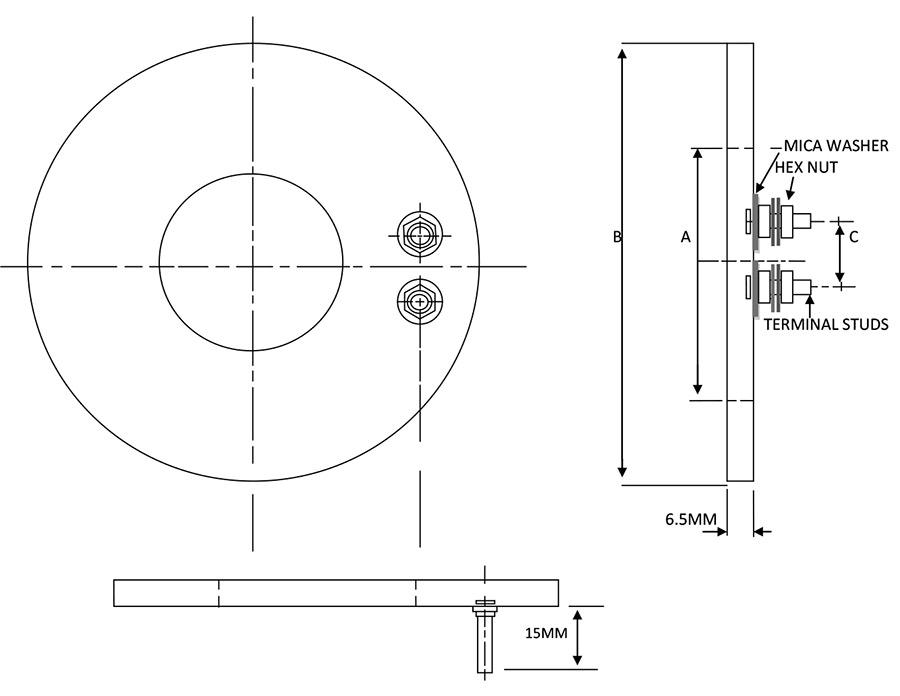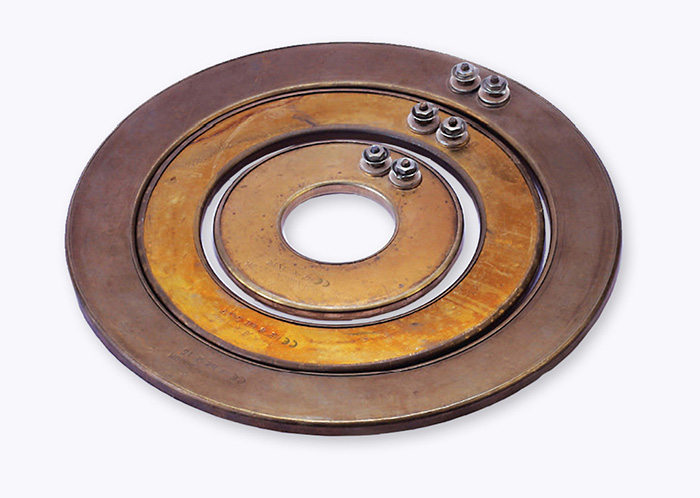 Types
MAX WATTS
AT 230/250
VOLTS
DIEMENSION
(IN MM) A
DIEMENSION
(IN MM) B
CENTRE
DISTANCE
(IN MM) C
TERMINAL
STUDS
THREAD SIZE
HS-1
350
27
88
16
4 BA
HS-2
400
50
100
21
4 BA
HS-3
500
50
111
21
4 BA
HS-4
1000
62
134
21
2 BA
HS-6
1250
90
160
21
2 BA
HS-7
1300
113
178
21
2 BA
HS-8
1600
129
201
21
2 BA
HS-9
1750
152
218
21
2 BA
HS-10
2000
225
300
21
2 BA
---
Product List Conduction Heating